Smiles Are Us Park Holme Cosmetic Braces
Park Holme Inman Aligner Treatment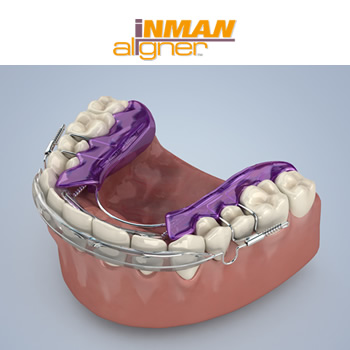 Inman Aligners are a convenient alternative for our patients who want a fast, straight-looking smile without wearing braces. Straighten your front teeth—the ones people notice most—in just 6-16 weeks.
How Do Inman Aligners Work?
Instead of trying to straighten all of your upper and lower teeth to fit together, Inman Aligners focus on the four teeth at the front of your mouth. This strategy reduces the overall time frame of your treatment.
As a removable appliance, the Inman system looks and feels more like a traditional orthodontic retainer. However, it places modest amounts of pressure onto the front teeth, nudging them into a more desirable position. Instead of pressing on one side of your teeth, the curved inner and outer bow of the Inman Aligner move teeth from two directions.
Wear your aligner for 16-20 hours per day, only taking it out for meals, brushing, flossing or other limited time frames. We'll evaluate your progress every 2-3 weeks and make minor adjustments to continue your tooth movement. To prevent relapse, we encourage you to have a bonded or clear retainer made at the completion of your treatment.
Candidates for Inman Aligner Treatment
Before considering Inman Aligners, we'll want to determine if your back teeth have a relatively healthy biting relationship. Severe malocclusions (misaligned bites) can lead to TMJ damage, tooth wear and require conventional braces to correct. But if your alignment needs are aesthetic and limited to the front of your smile, an Inman Aligner system may be your best solution.
You'll want to be sure that your teeth are free of any cavities or gum disease, so schedule your consultation after a recent checkup. We'll also take an impression of your teeth, which our lab will need to create your customised appliance.
Jump-Start Your Smile Makeover
The Inman Aligner system is perfect on its own. But it can also be combined with our other cosmetic services for the ideal smile makeover. Perhaps you want to whiten your teeth in conjunction with making them straight, or you can't get dental veneers until the front teeth are brought into alignment. With Inman systems, you can bypass the added time of completing comprehensive orthodontic treatment.
Schedule a Consultation Today
Book an Inman Aligner evaluation today and have straighter looking teeth in just a few months. Flexible financing is available on this affordable treatment.
CONTACT US

Inman Aligner Park Holme, South Plympton, Marion, Ascot Park, Plympton SA | 08 8277 9747