Protective Mouthguards in Park Holme
Smiles Are Us Park Holme Bite Splints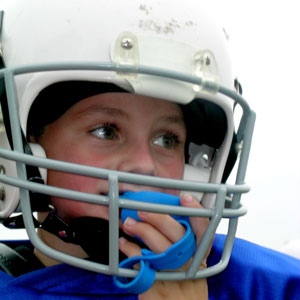 Wearing a mouthguard is an effective way to prolong the health and integrity of your smile. Whether you want to avoid a trip to the emergency room or protect your new veneers against chipping, having a bite splint or other oral appliance made is often the best solution.
Athletic Mouthguards
Did you know that some of the most common injuries associated with sports involve the mouth? Oral injuries due to trauma are some of the most frequent emergencies seen in athletes.
Fortunately, wearing a protective athletic mouthguard can help. With a custom appliance, your mouthpiece will fit more securely and comfortably, staying in place when you need it the most. Professionally fitted designs offer better protection than generic ones sold over the counter.
Protect you or your child against
Concussions
Broken/chipped teeth
Avulsed (knocked-out) teeth
Lip and cheek lacerations
Secondary trauma
Our custom-made mouthguards can be matched to your favourite team or jersey colours. Durable enough to wear year after year, your new athletic mouthpiece is one of the best investments you can make when it comes to protective equipment. Young patients whose teeth are still developing will likely need a new appliance made each year.
Bite Splints for Bruxism
If you have a habit of clenching and grinding your teeth (bruxism), you may need a bite splint. Splints are ideal for preventing unwanted damage or fractures caused by tooth-against-tooth wear over time. A bite splint can be a full arch acrylic mouthpiece that snaps over your upper or lower teeth or a smaller appliance that fits at the front of your mouth to prevent your jaws from closing completely together.
How can you tell if you suffer from bruxism or need a bite splint? Here are some things to consider:
Recent investment in cosmetic dentistry, such as porcelain veneers
Evidence of worn, flattened enamel throughout your mouth
Waking with a headache or sore jaws in the morning
Frequent migraines
Constantly broken dental work or chipped teeth
Catching yourself clenching your jaws throughout the day
Teeth grinding sounds noticed by your sleep partner
Your bite splint is comfortable enough to sleep in, but it can also be worn at your desk or on your commute home from work, all times when teeth grinding tends to occur.
All You Need Is an Impression
Schedule a consultation today. We'll take an impression of your teeth and have your new mouthguard ready in just a few days.
CONTACT US

Mouthguards Park Holme, South Plympton, Marion, Ascot Park, Plympton SA | 08 8277 9747