The Smiles Are Us Park Holme Story
A Generational Park Holme Practice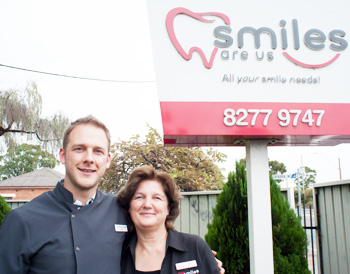 Founded in 1985, our practice was originally run by Dr Ben Nowicki, Dr Nathaniel Nowicki's father.  Although the family business expanded to three other locations, the late Dr Nowicki, unfortunately, passed away, and his sister (also a dentist) acquired two of the active practices.
His son, the current Dr Nowicki, who was at the time an oral health therapist, went on to complete his dental studies and take over our original practice location. If you've seen us in years past, you'll be quite surprised to see how much the younger Dr Nowicki looks like his father!
Although our two-generation dental practice has been here for well over 30 years, it's also the home where Dr Nowicki grew up. In fact, he often spent the evenings playing with his toy trains on the floor of the room that was his father's surgery.
Modifications and Advancements in Care
As the years passed by, our building was gutted and refurbished to house a larger reception area and five operatories. We've invested in newer technology to provide higher quality, more efficient care to our patients, through measures and equipment such as:
Hospital grade sterilisation practices
Colour-corrected lighting in each room, for accurate shade matching
Soft tissue laser therapy
CAD/CAM digital scanning for same-day crown and bridgework
On-site digital X-rays and OPG scanner
High-resolution intraoral cameras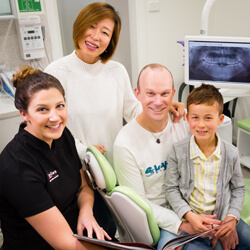 Why Visiting Us Is Different
Many of our staff are from the same two families, with mothers, sisters, cousins and close friends working together in a tightly knit environment where we share our close bonds with the patients whom we serve.
Because so many families have come to us over the years, it's been a joy to see generations of children grow up before our eyes. Our child-friendly oral health therapists make it possible for your entire family to be booked side by side.
For Your Peace of Mind
When you visit Smiles Are Us, you can confidently have peace of mind that we run our clinic to best practice standards.
Our team are all registered with the Australian Health Practitioner Regulation Agency and the Australian Dental Board and are regularly appraised to ensure they practice to the highest standards.
Smiles Are Us also take infection control very seriously and is proud to confirm that best practice standards of Infection Control and Sterilisation have been in place here since 1986.

Smiles Are Us Charter of Health Care Rights
You have the right to quality and appropriate treatment at this practice
You have the right to be safe while you visit us
You have the right to be shown dignity, respect and consideration in all your interactions with us
You have the right to be informed about services, treatment options and costs in a timely, clear, open and relevant way
You have the right to be included in decisions and choices about your dental care
You have the right to privacy and confidentiality of your personal information
You have the right to comment on your care and have your concerns addressed
Give Us a Call
We're just a short drive from downtown, the beach and city centre, making us a convenient choice for your family's oral health care provider. Contact us now for a same-day appointment (we're open late on Wednesdays!).
CONTACT US

Smiles Are Us Park Holme | 08 8277 9747