Invisalign® at Smiles Are Us Park Holme
Park Holme Clear, Removable Braces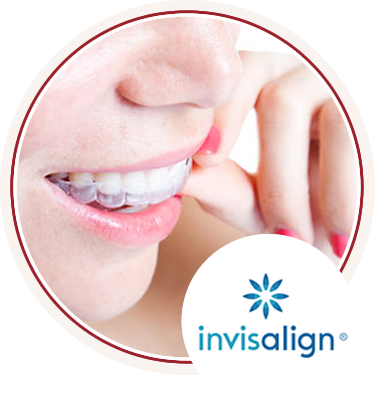 Invisalign is the leader in modern, minimally invasive orthodontic therapy. Originally designed for busy adults with minor orthodontic relapse, Invisalign now offers lines for teens and complex cases involving severe crowding and tooth misalignment.
Crafted from BPA-free translucent plastic, Invisalign snaps over your smile and is practically invisible. You can smile and talk without anyone ever realising that you're in braces.
Advantages of Invisalign
Choosing to wear Invisalign offers many benefits over conventional braces:
Freedom to eat anything you want
Easy to keep clean
No modifications to your home hygiene routine
Ideal for mild to severe cases
No irritating wires or brackets
Fewer and shorter appointments
Predictable, digitally mapped results
Convenient wear indicators keep you on schedule
How Does Invisalign Work?
Invisalign labs uses digital technology to virtually map your tooth movement before treatment even starts. By taking an impression or scan of your teeth, the software can predict where each tooth needs to be moved throughout your treatment (ultimately ending with an aligned smile).
From there, a series of trays are made to systematically nudge each tooth at two-week intervals. You'll wear the assigned set of aligners for that period then progress to the next set, straightening your teeth at home.
We'll evaluate your progress every 6-8 weeks to ensure things are moving along properly and send you home with the next few sets of trays. Since there are no wires or brackets to adjust, your visits are relatively short. In fact, many of our busy adult patients work in their appointments around lunch or before or after work.
Great for Improved Health and Hygiene
With Invisalign, there are no tedious appliances to brush or floss around. Instead, you'll remove your trays to brush and floss as normal. Clean your aligners with a soft toothbrush and lukewarm tap water, with a small amount of non-abrasive toothpaste if you prefer. Hot water may cause the material to warp.
The added benefits of Invisalign maintenance make it easier to keep your gums and teeth healthy throughout treatment. A properly aligned bite is also less prone to complications like tooth decay, gum disease and TMJ disorder. Investing in straighter teeth isn't just for looks; it's about having better oral health!
Is Invisalign Right for You?
Request a complimentary consultation to find out if you qualify for Invisalign braces.
CONTACT US

Invisalign® Park Holme, South Plympton, Marion, Ascot Park, Plympton SA | 08 8277 9747