Dental Implants at
Smiles Are Us Park Holme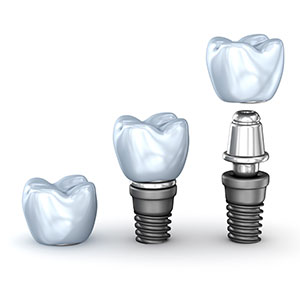 Restore Your Smile
Our friendly and experienced team of oral health care professionals also provide single-tooth dental implants to fill the empty space left behind after a tooth has fallen out or undergone extraction. Don't put up with the lack of confidence or function that a missing tooth can cause. It's time to regain your beautiful smile once again, thanks to the help of our dental implant therapy!
What is a Dental Implant?
A dental implant acts as an artificial tooth root made from highly-durable material (usually titanium), that is then fixed securely and permanently into the jaw bone. A crown, acting as an artificial tooth, is then attached to the implant, resulting in a durable, long-lasting and completely natural looking restoration that feels just like your existing teeth.
Why Choose a Single-tooth Dental Implant?
Thanks to modern advancements in dentistry, dental implants provide the most successful, effective, strong, long-lasting, and natural-looking solution to a missing tooth. Here are some other reasons why dentists love implants:
When proper oral hygiene standards are maintained, dental implants can last a lifetime.
They help to boost bone strength whilst also maintaining a patient's facial profile.
Implants are so durable, that they are actually stronger than your natural teeth.
Placing a dental implant after a tooth extraction prevents shrinkage in your bone and gum.
What Can You Expect During the Dental Implant Procedure?
Because the Smiles Are Us Park Holme team are very experienced in dental implant therapy, the procedure is a rather straight-forward one, causing the patient as little pain and discomfort as possible.
Once we have obtained the relevant imaging to further investigate the implant's location, we begin by carefully placing the titanium root into your jaw. The next step involves waiting for approximately 3-4 months to allow for osseointegration to occur. This simply refers to the process where new bone grows and fuses to the implant, resulting in incredible strength and durability.
Next, a custom-made crown is created in our trusted and local lab, ready to be fitted permanently to your implant. You are then left with a completely realistic and functional prosthetic tooth, helping to restore your beautiful smile.
Are You a Candidate for a Dental Implant?
If you're missing a tooth and wish to smile with ease and confidence once again, please schedule a consultation with our experienced dental team today!
CONTACT US
Any surgical or invasive procedure carries risks. Before proceeding, you should seek a second opinion from an appropriately qualified health practitioner.

Dental Implants Park Holme, South Plympton, Marion, Ascot Park, Plympton SA | 08 8277 9747