Dental Veneers at
Smiles Are Us Park Holme
Your Fast Solution to a Straighter, More Beautiful Smile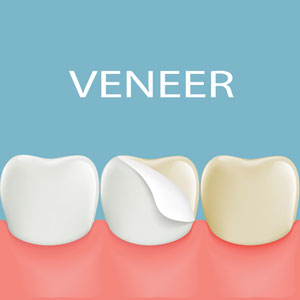 Our high-quality veneers are a popular solution for those looking to improve their smile in as little time as possible. The Smiles Are Us Park Holme team are very experienced within all facets of cosmetic dentistry, including veneers, allowing us to help you achieve the smile you've always dreamed of.
If you're looking to makeover your smile, or simply no longer feel confident about your teeth, then veneers may be the perfect solution for you. Keep reading to find out more!
What Are Veneers?
Veneers are essentially thin, tooth-shaped sheets of porcelain or composite materials. They are made to blend-in seamlessly with a patient's smile, with each veneer being custom-made to a specific size, shape, and colour. They are bonded over the front of teeth to give patients an aesthetically-pleasing smile without the need for more complex cosmetic treatment (such as orthodontics).
Are You a Candidate for Veneers?
Not only do veneers provide patients with a straight-forward and less-invasive cosmetic dentistry option, but they are also beneficial for treating a number of common smile concerns. You may be the perfect candidate for veneers if you're experiencing any of the following at the front of your smile:
Misshapen teeth
Crooked or misaligned teeth
Gaps in between teeth
Discoloured teeth
Teeth that are generally uneven in appearance
The Veneer Process
To begin your veneer treatment with the professional and experienced team at Smiles Are Us Park Holme, you will first need to schedule an initial consultation with our dentist. During this consultation, our dentist will answer any questions you have about veneers, plus they will gently assess your mouth to gain a more thorough overview of your oral health. During this initial phase, digital imagery (such as intra and extra oral photographs) may also be taken.
The next phase of treatment involves preparing your teeth to receive the veneers, as well as bonding temporary veneers to your teeth to prevent sensitivity or discomfort.
Once your permanent veneers are back from the lab, our dentist will gently bond them to your teeth to give you a more beautiful and brighter smile.
Want to Learn More?
Are you looking to improve your smile, or simply wish to find out more about our high-quality veneers? Please schedule an appointment with the Smiles Are Us Park Holme team today!
Any surgical or invasive procedure carries risks. Before proceeding, you should seek a second opinion from an appropriately qualified health practitioner.

Dental Veneers Park Holme, South Plympton, Marion, Ascot Park, Plympton SA | 08 8277 9747