LightWalker® at Smiles Are Us Park Holme
Laser Dentistry in Park Holme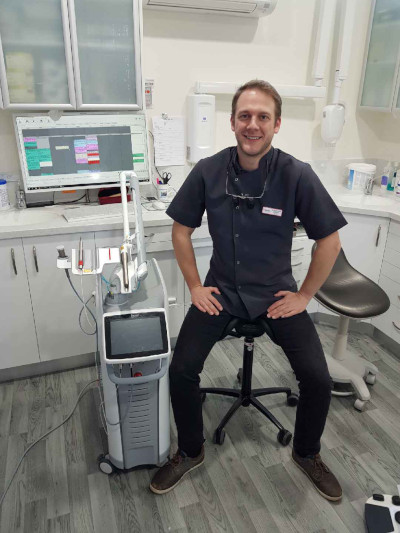 Here at Smiles Are Us Park Holme we have one of only two of the LightWalker laser machines in the whole state! These incredible machines are  amazing at what they are capable of and you can experience it right here in Park Holme.
When it comes to gentle and minimally invasive care for our patients, the LightWalker dental laser allows us to offer the most exceptional experience possible. As a conservative and effective piece of dental technology, lasers enable us to bring the safest and quickest care to you and your family.
With laser energy, our dentists can use a safe and powerful beam of light to address tooth decay and soft tissue concerns in a gentle and predictable manner. From sleep apnoea to periodontal therapy, LightWalker significantly impacts the quality of services we're able to provide. The laser can even be used to treat cold sores!
What Is LightWalker?
LightWalker is a state-of-the-art Erbium dental laser that uses speed and precision to replace traditional surgical and drilling techniques when treating everyday oral health concerns. When used instead of conventional methods, it provides our patients with
Faster healing times
Minimally invasive procedures
Gentler treatments
Conservative restorations
Drill-Free Dentistry
Did you know that lasers make it possible to treat small cavities without local anaesthesia and manual tools (drills)? LightWalker is useful for removing modest areas of tooth decay to place the smallest filling possible. Numbing usually isn't necessary.
Extractions and Oral Surgery
Traditional oral surgeries like gum recontouring, wisdom tooth extractions, crown lengthening and gum depigmentation treatments are gentler and more conservative when completed with a soft tissue laser. Our patients can get back to their regular routines in less time with minimal discomfort following their procedure. In most cases, no sutures are necessary!
Gum Disease Therapy
Periodontal disease and peri-implantitis respond quite positively to soft tissue laser treatments with the LightWalker. The procedures enhance traditional gum disease treatments, providing faster recovery time and more improved results.
Snoring and Sleep Apnoea
Some types of sleep breathing disorders are due to the anatomy of the soft tissues at the back of your throat. By tightening the skin near your upper airway, laser treatment can reduce the effects of sleep apnoea and snoring.
Want to Learn More?
Contact us today to learn more about our minimally invasive laser dentistry services.
Any surgical or invasive procedure carries risks. Before proceeding, you should seek a second opinion from an appropriately qualified health practitioner.

Laser Dentistry Park Holme, South Plympton, Marion, Ascot Park, Plympton SA | 08 8277 9747