Elisha Daly, Oral Health Therapist
Education and Professional Development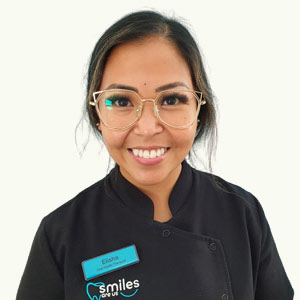 Elisha earned a Bachelor of Oral Health from the University of Adelaide in 2017. To stay abreast of the latest in dentistry, she is continually updating her knowledge. "Smiles Are Us Park Holme always has us connect with dental reps from various companies, so that we can keep up to date with new materials and methods."
Elisha also gained a wealth of knowledge by working with many dentists and specialists over the years. "I can use that knowledge to give my patients the best treatment."
She is part of the ADA, DHAA, Swiss Dental Academy, and CAPP.
Helping Put Patients at Ease
For Elisha, it's rewarding to help patients work through their dental concerns and overcome any anxiousness about being in the dental chair.
She also loves catching up with all her patients about their day-to-day life. "It's rewarding to hear about big and small events that my patients are excited to tell me about."
In Her Spare Time
Outside the practice, Elisha loves spending time with her beautiful dog, Dio, as well as family and friends. She loves being out and about, whether travelling or having a quiet walk.

Smiles Are Us Park Holme | 08 8277 9747